Jennifer Hurley McGay
Partner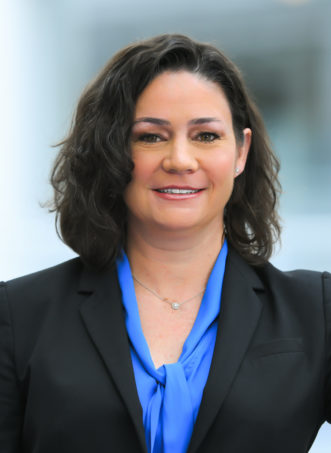 Jennifer Hurley McGay
Partner
Jennifer Hurley McGay represents individuals and companies in both small and large complex commercial disputes in state and federal courts, as well as in bankruptcy proceedings. Jennifer has experience litigating cases involving a broad spectrum of substantive issues, including business torts, class actions, contract, construction disputes, bankruptcy, securities law, intellectual property, employment, and corporate issues. The clients in these cases have been both plaintiffs and defendants engaged in a wide variety of industries, including financial services, oil and gas, cable and media, sporting goods, telecommunications, electronics, insurance, information technology, and cash management and financial technology. Jennifer handles matters during all phases of litigation through trial, appeal, and settlement. She regularly counsels clients in ways to avoid or minimize litigation risks and is well versed in various forms of alternative dispute resolution, including arbitration and mediation. Jennifer also negotiates and drafts business agreements, including employment agreements, participation agreements, and non-disclosure agreements, and advises clients on transactional and regulatory matters and the day-to-day issues affecting their businesses. Jennifer's experience includes substantial experience representing credit unions and she is well versed in the specific rules and regulations that govern credit unions and Credit Union Service Organizations.
Jennifer received her J.D., magna cum laude, from the University of Toledo College of Law, where she served as an Editor of the Law Review and was admitted to the Order of the Coif.  She received her B.A. from the State University of New York at Albany.  From 1996-1998, Jennifer served as a judicial law clerk for the Chief Judge of the U.S. District Court for the District of Connecticut.  Following her clerkship, Jennifer practiced law in New York City for almost twenty years before joining Lewis Johs, most recently as a Commercial Litigation partner in an international law firm.
In addition to practicing law, Jennifer is active in the legal community, serving on the Board of the Federal Bar Association, Eastern District of New York, and the Suffolk County Commercial Division Committee.   She has served as Assigning Partner, Mock Trial Coach, Associate Attorney Mentor, Hiring Committee Member, J.P. Morgan Corporate Challenge Team Captain, and Participant, Attorney Development Committee Member, Knowledge Management Initiatives Member, and Chase Honors Program Hiring and Mentor.  She has conducted attorney training sessions on various topics, including the attorney-client privilege and work-product doctrine, effective appellate advocacy, drafting written discovery requests, and taking and defending depositions.  In her community, Jennifer is a member of the Civic Association and is active in local charitable events.
Practice Areas
Accomplishments
Recipient, Hofstra Outstanding Women in the Law Award (2018)
Note and Comment Editor, University of Toledo Law Review
Recipient, D'Arce-Koch and Leslie Henry Law Scholarships
Recipient, American Jurisprudence Awards (Copyright Law; Agency and Partnership; Criminal Procedure; Administrative Law)
Education
Juris Doctor Degree, magna cum laude – University of Toledo College of Law, 1994
Bachelor of Arts  – State University of New York at Albany, 1991
Associations
Federal Bar Association
American Bar Association
Suffolk Bar Association
Financial Women's Association
Greenlawn Civic Association
University of Toledo College of Law, Order of the Coif
Admitted
State of New York
State of Ohio
U.S. District Court for the Southern District of New York
U.S. District Court for the Eastern District of New York
U.S. District Court for the Southern District of Ohio
U.S. Court of Appeals for the Second Circuit
U.S. Supreme Court
Published
Co-Author, "Challenging Arbitrability," The Suffolk Lawyer, Commercial Division Special Edition (May 2020)
Co-author, "Primer on Non-Party Subpoenas in New York State," The Suffolk Lawyer, Commercial Division Special Edition (June 2019)
Chair, "Specialized Deposition Techniques," Practicing Law Institute (March 29th, 2019, April 9, 2018,)
Featured, "The Importance of Being Mentored," Long Island Business News (March 16, 2018)
Featured, "Firm Believers," Long Island Business News (March 9, 2018)
Panel Speaker, "Advanced Deposition Techniques," Practicing Law Institute (March 31, 2017, January 26, 2016, January 20, 2015)
Panel Speaker, "Rule 30(b)(6) Depositions in Class Action Litigation: Deposing or Defending Corporate Witness Depositions," Strafford Publications (April 24, 2019, November 2, 2017)
Co-author, "Implications of Relying on Advice of Counsel in the Second Circuit," New York Law Journal (June 23, 2015)
Co-author, "Admissibility of Email Under FRE's Business Records Exception," New York Law Journal (May 5, 2014)
Co-author, "Securities Act Claims and 'Inquiry Notice' in the Second Circuit," New York Law Journal (September 24, 2013)