22 Lewis Johs' Attorneys Recognized by NY Metro Super Lawyers 2022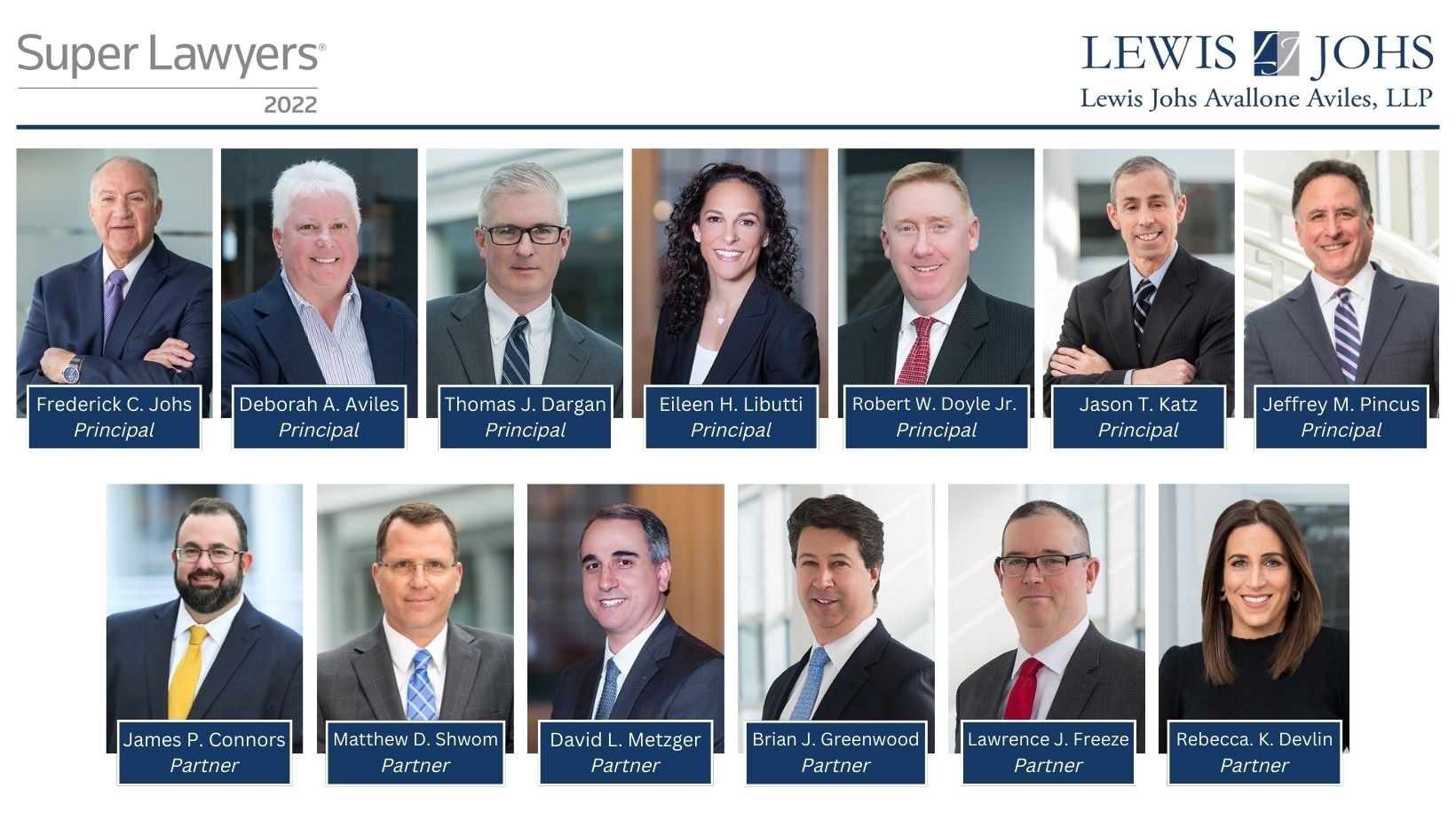 Posted: September 29, 2022
Lewis Johs Avallone Aviles, LLP is proud to announce that Thomson Reuters' Super Lawyers has recognized 22 attorneys from the firm on the New York Metro Super Lawyers and Rising Stars lists for 2022. The Super Lawyers selection process includes independent research, peer recognition and professional achievement. Each year, only five percent of attorneys in the New York metro area are honored with this award. Rising Stars are those up-and-coming attorneys who are 40 years of age or younger and have practiced law for 10 years or less.
Lewis Johs Attorneys Named to the 2022 Metro Super Lawyers:
Frederick C. Johs, Principal
Deborah A. Aviles, Principal
Thomas J. Dargan, Principal
Eileen H. Libutti, Principal
Robert W. Doyle, Jr., Principal
Jason T. Katz, Principal
Jeffrey M. Pincus, Principal
James P. Connors, Partner
Matthew D. Shwom, Partner
David L. Metzger, Partner
Brian J. Greenwood, Partner
Lawrence J. Freeze, Partner
Rebecca K. Devlin, Partner
Lewis Johs Attorneys Named to the 2022 NY Metro Rising Star Super Lawyers:
Joseph M. Charchalis, Partner
Robert J. Yenchman, Partner
Annemarie S. Jones, Partner
Jordan S. Palatiello, Partner
Lisa M. Landers, Associate
Julianne A. Bonomo, Associate
Caroline K. Hock, Associate
Stephen R. Macho, Associate
Ross A. Ruggiero, Associate
The firm is proud of the dedication and commitment that led these lawyers to be nominated, selected and recognized by Super Lawyers.
Categories