Summer Law Internship Program Wraps Up Successfully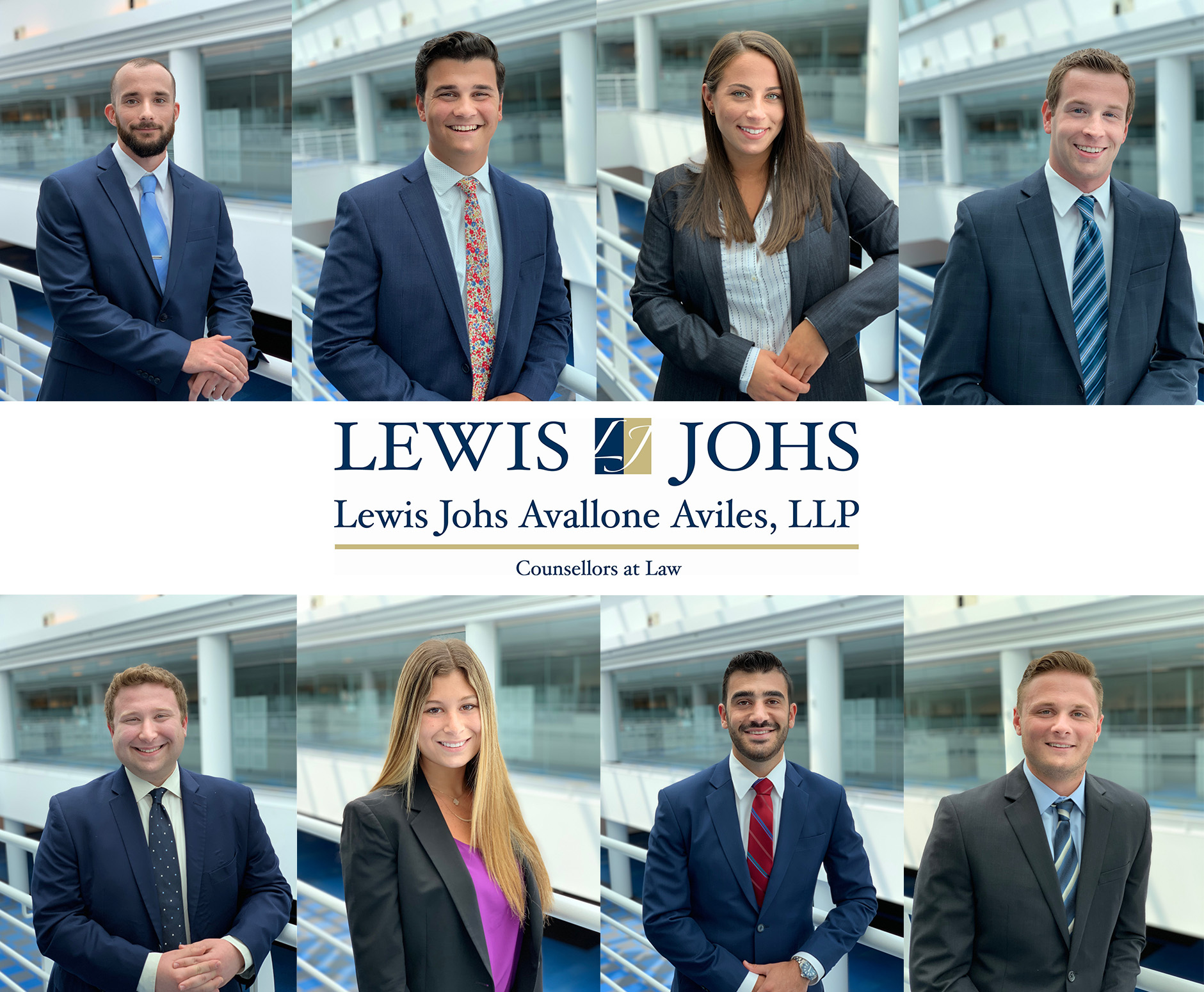 Posted: August 19, 2019
The Lewis Johs Summer Internship Program has wrapped up successfully for 2019. The annual program, led by partner Claudia L. Boyd, hosted eight law students from law schools throughout New York.  The program provided these students with a hands-on ten-week internship at both our Islandia and New York City offices.  The students had an opportunity to work in a professional environment and be mentored by many of the firm's attorneys.
The students, whose backgrounds are set forth below, are Sean Brodersen, Christopher DeNicola, Kristin Catalano, Zachary Sobel and Justin Penchuk in the firm's Islandia office, and Lauren Greenberg, Nicholas LaGinestra, and Ryan Vassar in our New York City office.
Christopher DeNicola
Christopher has just started his second year of law school at the Maurice A. Deane School of Law at Hofstra, Juris Doctor candidate May 2021.  He attended Florida State University in Tallahassee, Florida and graduated with a Bachelor of Science in Business Management, Minor in Entrepreneurship in May 2018.  His hometown is Babylon, NY.
Justin Penchuck
Justin is a student of St. John's University School of Law, J.D. Candidate 2020, who always knew he wanted to be a lawyer. He thrives on the competitive yet collegiate atmosphere of the law industry. Justin has had the opportunity to work with several different firms before Lewis Johs. Additionally, Justin worked at the Nassau County Legal Aid Society last summer and belongs to the PTAI at St. John's. Justin wishes to focus his practice on civil litigation. He graduated from the University of Delaware with a degree in Political Science and was heavily involved in his fraternity Alpha Epsilon Pi (AEPi). Justin helped run numerous philanthropic events, including UDance, a dance marathon to raise funds for the B+ Foundation to help families with children diagnosed with cancer pay for their expenses. In his personal time, Justin enjoys playing baseball, watching TV, and engaging in sports.
Kristin Catalano is a third-year student at St John's University School of Law. She graduated cum laude from Stony Brook University, where she majored in Political Science. Kristin is the Managing Editor of the St. John's American Bankruptcy Institute Law Review for the 2019-2020 school year. When Kristin graduates from law school, she hopes to clerk for a year under a federal judge to gain significant experience in the field of law before practicing at a firm. Kristen is a member of the Federal Bar Association and the Nassau County Bar Association. In her free time, Kristen enjoys exercising and baking.
Sean Brodersen is entering his third year at St. John's University School of Law. He started with the firm as an intern in the summer of 2018, staying on in his position through the school year. As an intern, Sean has gained experience in the fields of general liability and medical malpractice. He enjoyed the medical malpractice work and he would like to practice in this area after being admitted to the bar. Sean will be the first lawyer in his immediate family and has always had an interest in the law. His grandmother would tell stories of her brother who was a Nassau County judge and Sean knew that one day he wanted to be someone who was just as respected, and who contributed to making his community a better place. Sean is a graduate of St. Thomas Aquinas College with a dual major in History and Criminal Justice. While at St. Thomas, Sean was a member of the honors program, an intern for the Rockland County District Attorney's office, and studied abroad for a semester at Oxford University. In his free time, Sean enjoys bodybuilding and playing men's fast-pitch softball. He also works as a catering cook for Pelligrini's in Stewart Manor on the weekends.
Zachary Sobel is entering his second year at St. John's University School of Law. Zachary decided to pursue law after observing his father, a lawyer who has practiced for many years. He previously worked at another law firm for a few consecutive summers and was inspired to make law his career. Zach hopes to work in corporate law, specifically mergers and acquisitions. He started the Law and Entrepreneurship Society at St. John's, looking to provide basic business knowledge to students without any formal business education or experience. Zachary is a member of the American Bankruptcy Institute Law Review, the Treasurer of the Federal Bar Association's St. John's student division, and a member of the Dispute Resolution Society. Zach is a graduate of Quinnipiac University, where he received an M.B.A. and a B.S. in Accounting. In his free time, Zach likes to travel, invest, read, and relax at his pool.
Lauren Greenburg is a third-year student at Cardozo Law, whose mother had a large influence on her decision to become a lawyer. Lauren's interest in the law peeked when she took Journalism Law courses during her undergraduate studies, impressed by how the law can be applied to every topic of everyday life. Lauren is undecided about which area of the law she would like to practice but is interested in intellectual property and product liability. Lauren is an active member of the Federal Bar Association, Intellectual Property Law Society, Business Law Society, and the Fashion Law Society. She is also a staff editor for the Journal of Equal Rights and Social Justice. Lauren graduated from the University of Wisconsin-Madison School of Journalism and Mass Communication with a degree in Strategic Communications and Entrepreneurship. In her free time, Lauren enjoys playing tennis and going to the beach with friends and family.
Nicholas LaGinestra is a second-year student at Hofstra University Maurice A. Deane School of Law as a joint JD/MBA candidate. He decided to study law because he likes to solve complex problems, while also helping people in need in the process. Since most of his immediate family is involved in the medical profession, he found interning in medical malpractice defense especially rewarding. Nicholas took several courses during his undergraduate studies including policy debate, mock trial, and medical ethics. Additionally, several philosophy and writing courses ultimately furthered his interest in attending law school. After finishing law school and being admitted to the bar, Nicholas would like to practice medical malpractice and business law. He is a member of the Federal Bar Association, the Hofstra Trial Advocacy Association, and the Hofstra Family Court Review. Nicholas graduated with a BA in Philosophy, Politics, and Law from the State University of New York at Binghamton. In his free time, Nicholas enjoys playing sports, exercising, and reading.
Ryan Vassar is a second-year student from Brooklyn Law School. He originally became interested in law during a government class in high school. He interned with the General Counsel of a Collections Agency and worked for a collections law firm between college and law school. Ryan would like to be involved in litigation or entertainment and sports law after his admission to the Bar. He is a member of the Entertainment & Sports Law Society at Brooklyn Law, the Federal Bar Association, as well as the Entertainment and Sports Law Bar Association. Ryan graduated with a Political Science degree from Michigan State University.  In his free time, Ryan enjoys working out and playing sports with friends, as well as fishing in the summertime, and snowboarding in the winter.
We wish them all great success with their continued legal studies
Categories